WhiteWaterVideo.com 's picture of the month (or so):
Just one of many big drops on the new video Grayscale

Cian Brinker on Sutherland Falls

Due largely to the efforts of AW and interested paddlers, in January 2007, a select group of paddlers were allowed the first legal run on the Chattooga Headwaters since 1976.

The battle is not over yet.

The Chattooga Headwaters

Well, the picture says it all. I guess many of us have been here.

Tallulah Gorge - Fall 2004

Probably the most impressive piece of Oceana carnage ever filmed was caught on tape by at least 5 cameras from 4 different angles!

This massive raft wreck started with a line too far right, then they skipped farther right during their completely airborne pirouhette, and ended by crashing into the rocks on the shore at river right ejecting all passengers. Injuries were relatively minor, considering... a dislocated shoulder which was self reduced and a beat up knee. But they boated out!

Look for this video on the next Paddlesnake!

L

eft picture by Milt Aitken, Right one by Wes Dewitt
©2004 by the respective photographers
All rights reserved
The 2004 Ocoee Head Hunt

The mayhem of the head hunt occurred again this year. As a couple of the participants remarked "You can't do anything stupider than this on the river". Of course, they were out there fighting for heads like the rest of the pack!

A 14MB, unedited, raw, poorly compressed .mpg video file is here.
Bull Sluice at 6.5 feet

Huricane Frances brought lots of water to the Chattooga. The last time the river was over 9 feet, Nolan Whitesell ran from everything from Earls Ford to US76. On 9/8/2004, he did it again. There is a giant bus eating hole beside that haystack!
A less than stellar run on
Celestial Falls at Flood

This picture is on a nice T-Shirt or in a combo special with "Local Hero". See the DVD page& click the link.
Sweets Falls @ 3600cfs

Yes, Gauley season was special this year. Two of the first three weekends saw ample rain for creekin and big water runs on the Gauley. Some ran the Lower Gauley at 15000cfs. This sweet line on Sweet's Falls was at a mere 3600cfs.
Big Bend Falls on the Illegal Section 1 of the Chattooga.

You can help make this section legal to boat! But, we've only got until July 3rd, 2003.

Write now!
Tallulah Season is here!


Pothole in Oceana

The Thing is formed by high speed water hitting the vertical face of the protruding rock at top right in this picture. A little downstream of that is an 8 foot deep pothole. This picture was shot long ago before the 35cfs fish pipe was installed in the damn. I wish we had a prettier subject!

A video guide of Tallulah is included in:
Tales of the Paddlesnake.

Photo by Rob Maxwell.
Some Manly Open Boater

Overflow Creek ran recently. It hasn't been running much in the last few years due to the drought. But this day was warm and sunny. This drop is Gravity, a big double drop between Blind Falls and Singley's Falls.

To see a tour of Overflow from top to bottom, watch "Deliver Me From The Paddlesnake"

Who is that guy running that gnarly rapid with nary a drop of water in his boat?

Photo is by Rob Maxwell, who claims he is writing a guidebook. (But, that may just be an excuse to paddle that he gives his wife)
Old Pics of the Month
Kevin Turner Concentrating

Kevin is boofing Zwick's Backender on the Green Narrows, NC. This drop will get your attention, as it is only about 20 feet of fast moving water above Chief.

Isn't he nicely color co-ordinated?

To see all of the Green Narrows rapid by rapid, get Leland's tape Playing in the Back Yard.
Mamquam Falls

Photo ©2001 by Charlie Munsey

Jason Priestley running a beastly drop!

Here's what Jason said:
The falls is mamquam falls in Squamish British Columbia Canada. It was my first big, big waterfall and I looked at it for about five days strait before I felt the water level was ideal to run it. I gave it and it was very soft.

Like big drops in northwest America?

Check out Breathe or

The Twitch series of videos.
Head to Head
in the
Green Narrows Race 2001


Julie Keller caught this shot of 3 boaters racing through Scream Machine. That's Gorilla at the top of the picture.

Playing in the Back Yard is a video tour of the Green along with some footage from the 2000 race.

The results of the race are here.

You can see more of Julie's work here.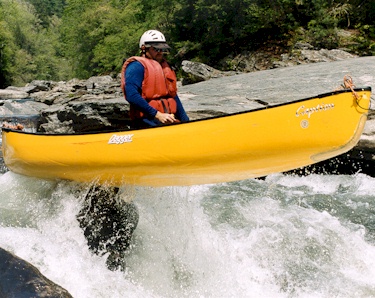 Don Kinser at Soc-em-Dog
Soc-em-Dog is the last of the Five Falls on Section 4 of the Chattooga Wild & Scenic River. Don lives in Atlanta and considers this his home river. As you can see, he has paddled this rapid so many times, he can do it in his sleep!
To see all of the Chattooga watershed, check out "Deliver Me From The Paddlesnake".