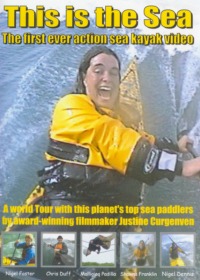 Buy it at whitewatervideo.com
This is the Sea
©2004 60 minutes
Retail $29.95 Yours for $26.95
Billed as "The first ever action sea kayak video", this video compares well to the action whitewater videos. You'll see huge sea kayak enders in surf, close encounters with whales, manatees, icebergs, and brown bears, as well as surfing, great scenery, and even some carnage.
This video takes you to some wonderful destinations:
Sonoma Coast, California
Weeke Watchi River, FL
Tybee Island, GA
Greenland
Kamchatka, Russia
Penryn Mawr, Wales
And it includes interviews and profiles of top sea kayakers like Nigel Foster, Chris Duff, Mallgiaq Padilla, Shawna Franklin, Nigel Dennis, Ginni Callahan, and more. This video may be the beginning of a new genre of sea kayak videos!